Biden cancels $10,000 in student loan debts
US President Joe Biden will cancel up to $10,000 (£8,474) in federal student loans for millions of Americans who earn less than $125,000 each year.
Mr Biden will also forgive $20,000 of debt for students on Pell Grants, which applies to those in greatest financial need.
The president will provide the details of his plan at 1400 EST (1900 BST).
An estimated 43 million Americans owe an estimated combined total of $1.6tn in federal student debt.
Almost a third owe less than $10,000.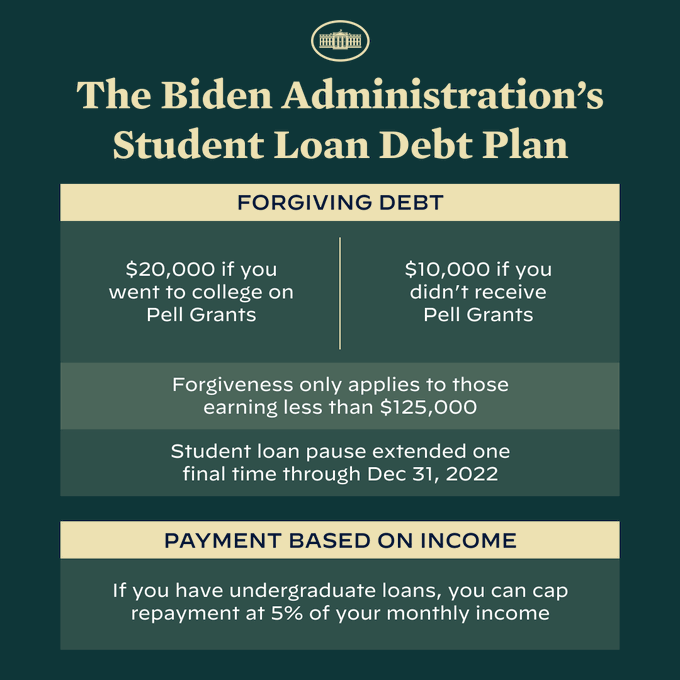 "My administration is announcing a plan to give working and middle class families breathing room as they prepare to resume federal student loan payments in January 2023," Mr Biden said on Twitter.https://platform.twitter.com/embed/Tweet.html?creatorScreenName=BBCWorld&dnt=false&embedId=twitter-widget-0&features=eyJ0ZndfdGltZWxpbmVfbGlzdCI6eyJidWNrZXQiOlsibGlua3RyLmVlIiwidHIuZWUiXSwidmVyc2lvbiI6bnVsbH0sInRmd19ob3Jpem9uX3RpbWVsaW5lXzEyMDM0Ijp7ImJ1Y2tldCI6InRyZWF0bWVudCIsInZlcnNpb24iOm51bGx9LCJ0ZndfdHdlZXRfZWRpdF9iYWNrZW5kIjp7ImJ1Y2tldCI6Im9uIiwidmVyc2lvbiI6bnVsbH0sInRmd19yZWZzcmNfc2Vzc2lvbiI6eyJidWNrZXQiOiJvbiIsInZlcnNpb24iOm51bGx9LCJ0ZndfY2hpbl9waWxsc18xNDc0MSI6eyJidWNrZXQiOiJjb2xvcl9pY29ucyIsInZlcnNpb24iOm51bGx9LCJ0ZndfdHdlZXRfcmVzdWx0X21pZ3JhdGlvbl8xMzk3OSI6eyJidWNrZXQiOiJ0d2VldF9yZXN1bHQiLCJ2ZXJzaW9uIjpudWxsfSwidGZ3X3NlbnNpdGl2ZV9tZWRpYV9pbnRlcnN0aXRpYWxfMTM5NjMiOnsiYnVja2V0IjoiaW50ZXJzdGl0aWFsIiwidmVyc2lvbiI6bnVsbH0sInRmd19leHBlcmltZW50c19jb29raWVfZXhwaXJhdGlvbiI6eyJidWNrZXQiOjEyMDk2MDAsInZlcnNpb24iOm51bGx9LCJ0ZndfbG93X3JlcGxpZXNfMTUwNTkiOnsiYnVja2V0IjoiYXNrX3N1Yl81IiwidmVyc2lvbiI6Mn0sInRmd19kdXBsaWNhdGVfc2NyaWJlc190b19zZXR0aW5ncyI6eyJidWNrZXQiOiJvbiIsInZlcnNpb24iOm51bGx9LCJ0ZndfdHdlZXRfZWRpdF9mcm9udGVuZCI6eyJidWNrZXQiOiJvZmYiLCJ2ZXJzaW9uIjpudWxsfX0%3D&frame=false&hideCard=false&hideThread=false&id=1562462774969581570&lang=en-gb&origin=https%3A%2F%2Fwww.bbc.com%2Fnews%2Fworld-us-canada-62664181&sessionId=9f93b4c0c2caef34162e72bf268b1359d6f66770&siteScreenName=BBCWorld&theme=light&widgetsVersion=31f0cdc1eaa0f%3A1660602114609&width=550px