ASSF kick starts a media campaign to raise funds to provide decent toilets & urinals for deprived schools
The Africa Schools Sanitation Foundation ASSF on Saturday, August 6, 2022, kicked start its media campaign dubbed 'Communal Labour' as part of efforts to mobilise resources from communities, individuals and organisations to assist them in providing decent urinal and toilet facilities to needy public schools in the country.
Chief Executive Officer CEO of the Foundation, Mr. Kwabena Antwi Boasiako, in an interaction with Founder Kwame Tutu on Original TV, stated that the government alone could carry the burden of providing hygienic urinal and toilet facilities in public schools, therefore, it was about time the citizenry got involved.
He appealed to Ghanaians, at home and abroad, to support the foundation to help eradicate unsanitary conditions in public schools.
The television show forms part of a series of media campaigns the foundation is embarking on to champion its project.
The era of blame game he posited should be over, and the focus should be redirected to providing support to help address the challenges confronting us as a people.
The President Kwame Tutu averred that the show would not be used, for political propaganda but used as a tool to mobilise Ghanaians to contribute to helping redevelop deplorable urinals and toilets as well as provide those without such facilities.
ASSF is apolitical, non-ethnic and religious organisation committed to providing a decent and hygienic environment for public schools in Africa, particularly, Ghana through citizenship mobilisation.
In July this year, the foundation handed over its first renovated urinal at Tutu Methodist Junior High School to the school authorities.
The renovation works took nine days to complete, the non-governmental organization has disclosed.
The short handing-over ceremony brought joy and excitement to both the students and the management of the school.
On Sunday, August 7, 2022, the foundation handed over renovated toilet facility to Joykol Orphanage at Kasoa in the Central Region.
The renovation which was undertaken in four (4) days at an amount of Ghc7,640 was under the auspices of Rev. Salormey Afua Owusu Afriyie of Salvation Prayer Missions Worldwide.
The financier Rev. Afua Owusu Afriyie, doubles as a radio pastor on Rainbow radio in Accra.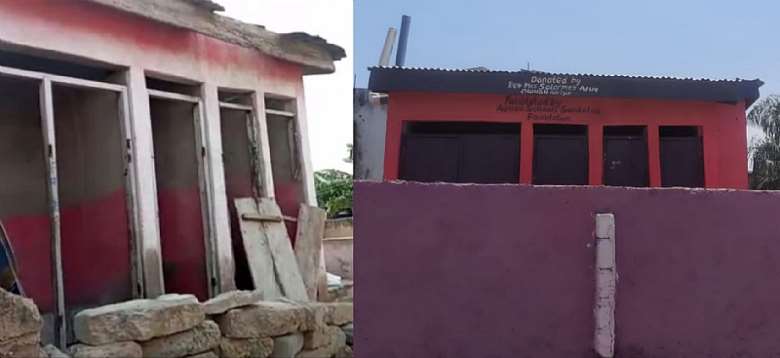 By: Rainbowradioonline.com/Ghana