Obuasi Tender accident: Fire Officer died from spinal injury- GNFS
The Ghana Fire Service (GNFS) has disclosed the cause of death of one of the six fire officers who sustained injuries in the tender accident in Obuasi a few days ago.
The Service said the way the injured persons were handled after the accident was not professional and contributed to the officer sustaining a spine injury.
The Public Relations Officer for the GNFS ACFO 1 Timothy Osafo Affum said the way some residents rushed in to assist in rescuing the officers could have been better.
He said the officer was transferred to Komfo Anokye Teaching Hospital because of the injury he sustained and was sent to the theatre but could not survive.
The Obuasi Fire tender accident recorded on June 6, 2022, has resulted in the death of a young firefighter, the Ghana National Fire Service has announced.
Some officers, who were responding to a distress call, got involved in an accident.
He described the death of the officer as painful "because we recruited him into the service not too long ago. He is very young".
On the issue of insurance, he reiterated that the state does not have in place any insurance policy for officers and their families.
He said, "it is the management that put in place a measure ro ensure that members join a contribution scheme and contribute into a pool of insurance which cover the officers".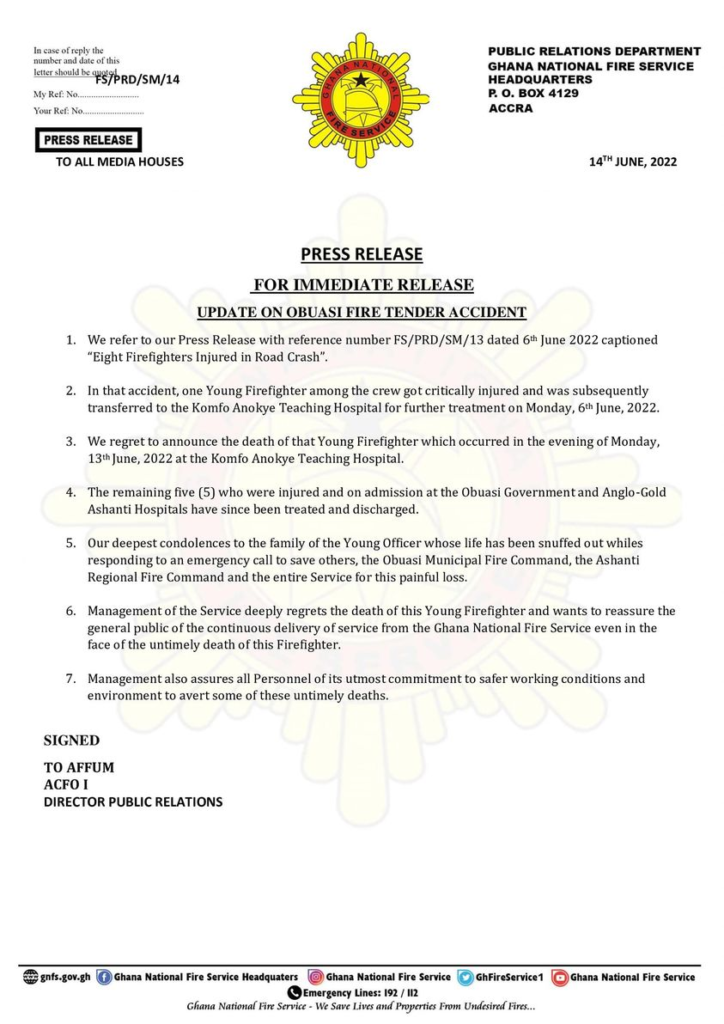 By: Rainbowradioonline.com/Ghana